Carpeting: Carpeting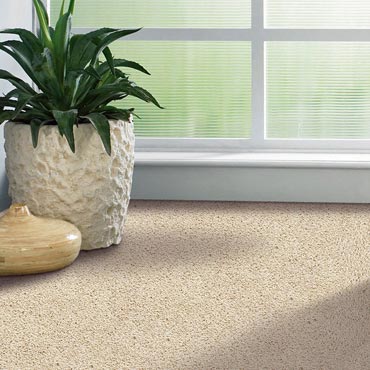 Carpet is a soft floor covering made of bound carpet fibers or stapled fibers. Carpeting refers to wall-to-wall coverage, whereas a rug is simply used to cover a space. This type of flooring is typically used indoors and can be used in both high and low traffic areas. It typically lasts for 15-18 years before it needs to be replaced. The quality of a carpet is usually measured in face weight, or how many fibers there are per square inch. The higher the face weight the more plush a carpet will feel.
Carpets come in a variety of materials including wool, nylon, olefin and polyester.
There are different types of carpet like twists, which is commonly referred to as a berber. Twist carpeting is composed of multiple twisted fibers set into the carpet backing. It is typically used in low traffic areas. Another type of carpeting is looped carpets, which are composed of looped fibers set into the carpet backing. This type of carpeting is typically used in high traffic areas as it is easy to clean.
Brand Overview
---

---
Profile
|
Website
|
Design Tools
We craft products designed with the ideals of our customers in mind and then match them to their perfect home. We sell craftsmanship and timeless design principles. We sell simplicity and quality, purpose, refinement and comfort. We sell natural beauty that doesn't fade.
---

---
Profile
|
Website
|
Design Tools
|
Warranty
Like you, Shaw Floors is passionate about creating beautiful homes founded on innovative design and lasting function. We know that a beautiful room doesn't happen by accident. Shaw offers more than 25,000 carpet styles and colors. That means your ultimate carpet choices will always reflect your own, unique vision.
---

---
Profile
|
Website
rom innovative design trends in LVT and resilient sheet products, Aladdin Commercial leads the industry as the preferred choice for commercial hard surface flooring. Is your project on a tight timeline? Our Quick Ship program delivers flooring in 10 business days or less.